Drop-In Hours: Weekdays from 3-6pm
View our upcoming workshops & programs
Join our Winter 2023 SMITHworks Design Challenge - click for details!
CREATE something unique
EXPLORE your interests & hobbies
LEARN through play and experimentation
SMITHworks is the interest-driven creator space at the Elisha D. Smith Public Library. With this space, we are taking the next step in our mission to support lifelong learning by creating an environment for our community to engage in hands-on learning. Learning efforts are supported by: library staff, subject experts from our community, and the library's collection of books, videos, and databases.
Research has shown that actively producing, creating, experimenting, and designing creates positive learning outcomes and allows users to make meaningful contributions to today's rapidly changing workforce. This shared space offers unprecedented opportunities for community members to share interests and contribute to a common purpose. Better understanding of our community and ourselves can be found through intergenerational programming and exploration. 
Our space seeks to both inspire and showcase the creative talents of our community members as well as help them develop the skills needed to achieve their goals. Our inventory includes a wide variety of tools and technologies to spark the imagination of anyone coming into the space. See below for a complete list.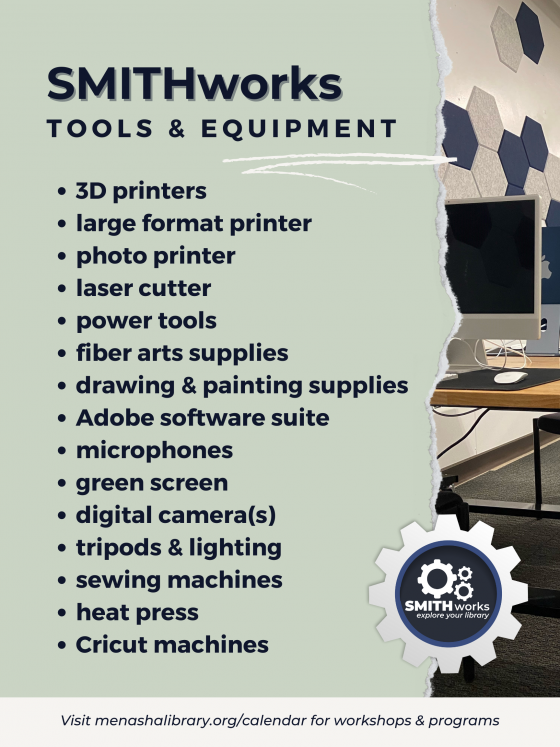 Computers: Our space contains a wide range of machines to meet a variety of needs. These include:
powerful Windows PCs, for media editing and design
Apple iMacs, for podcasting and creative endeavors
several Raspberry Pi computers for programming and experimentation
3D Printers: Get introduced to the world of micromanufacturing. Our space offers two 3D filament printers, as well as software to design your own models.
Printing Options: SMITHworks offers multiple options for printing your creations.
We have a large format printer which can print up to 24 x 10 feet on paper, photo stock, and vinyl.
Our photo printer can print dynamic, high-resolution photographs up to 13 x19 inches.
Digital Drawing Tablet: Whether you're still creating on paper or using a pen tablet, our digital drawing tablet allows seamless and natural interaction between pen and display to take your skills to the next level.
Laser Cutter / Engraver: Our laser cutting provides for a wide range of creative possibilities. The versatility, speed, and precision allows users to quickly bring ideas to reality. Our laser can cut and engrave a wide range of materials including: wood, paper, acrylic, and more.
Media Creation: Our wide array of recording tools allows you to create the video and audio content you never thought possible. Cameras, lighting, and green screen expand those opportunities. You can even shoot multi-angle scenes with our camera controller.
Applications / Software
Adobe Photoshop is a graphics editing program for 2D, 3D, and motion graphics. In addition to its array of features for graphic designers, Photoshop offers measurement and analysis tools built with scientists and engineers in mind.
Adobe Photoshop Lightroom is a photo processor and image organizer for: viewing, optimizing, and retouching images.
Adobe Illustrator is a vector-based drawing tool built for professional artists and designers.
Adobe InDesign is a page layout program built for professional print designers to create rich, complex documents. InDesign content can be exported in a variety of formats, so you can publish the same documents across print and electronic media.
Adobe Premiere Pro is a timeline-based video editing program with editing support for multiple high-definition video formats.
Adobe After Effects is a postproduction tool for creating and editing motion graphics and visual effects in film and video.
Adobe Audition is digital audio software for recording and editing audio files in a multitrack, nondestructive environment.
Adobe Dreamweaver is a professional development tool for: designing, coding, developing, and publishing web pages and web-based applications.
Studio One 5. Record, produce, compose, mix, master, and perform—all from a single, intuitive application. In addition, our subscription includes access to: bonus instruments, loops, sound effects, and instructional videos.
IdeaMaker and Chitubox slicers allow you to customize and prepare your 3D files for our filament printers. They are simple to use and take the guesswork out of the 3D printing process.