Art Wall Series 4
The featured artist on the library's art wall in December is Leif Larson and we were fortunate to have him come down to the library to do a podcast. This is the fourth installment of the Art Wall Series podcasts, and we were joined by John Nebel, local artist, former library board member, and Menasha Library art initiative collaborator.
I had a great time getting to know Leif and the perspectives he brings to the creative process. There is a lot to digest here for any discipline, be it writing, painting, composing. He describes a very generous and empathetic approach to art where he offers up his skills, trying to create an experience for the observer like he would want to have, yet retaining an authenticity and imbuing a unique attitude into the work. If you need some motivation for whatever project you are undertaking this podcast will do it.
And it's also a great primer to getting to know Leif in anticipation of the Meet the Artist event, December 3rd. Leif will be doing a live painting where we can watch his artistic process evolve a blank canvas to an imaginative story. Leif Larson will be open to questions, or discussions about art, while he is working, so don't be shy!  It's an all-day event held in the Miron Fireside Room where his Good Morning Bohemia painting will be displayed.
In the picture below we have some delectable onions gifted to Leif and myself from John. I already used mine topping a pizza! 
Leif and I even discovered over conversation that we both used to draw Taz drawings:
Leif Age 10:
Colin Age 9: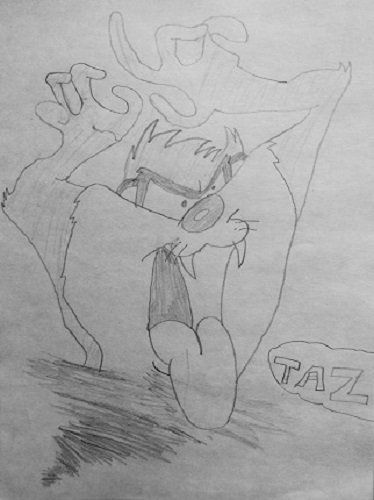 Thanks to everyone who supports the podcast; if you're enjoying these shows, please take a moment to subscribe, and give us a review on iTunes. Reviews will help others find the content, which helps the continued support for the show, and ongoing development.