During this holiday time, expand your dining options and add variety and healthy tips to your family menus with chef Shelly Platten. Tonight's class: Thanksgiving Sides:
Try these easy and tasty ideas from Healthy Chef Shelly for veggie side dishes with a twist at your holiday gatherings:  
Warm Brussel Sprout Salad with Apples & Bacon
Sweet Potato Mash with Nut Crumble Topping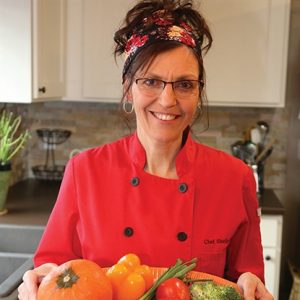 Chef Shelly is a renowned local chef, an advocate for wellness, and a Fox Valley Tech adjunct instructor.  Every other week on Thursday nights during the Fall, she will share with us her premiere series on cooking healthy.

Tune in to our Facebook live presentation or watch this workshop later.  Details about the ingredients list to purchase ahead will be provided the week prior the event.

All programs at the Elisha D. Smith Public Library are free and for everyone. Those with special needs are encouraged to call the library office at 920.967.3662 within 24 hours of an event to assure that specific needs with regards to parking, building and meeting room accessibility are met.

Todos los programas de la Biblioteca Elisha D. Smith son gratuitos y para todos. Aquellos con necesidades especiales pueden llamar a la oficina de la biblioteca 920.967.3662 con 24 horas de anticipación a un evento para asegurar que las necesidades específicas  de parqueo, acceso al edificio o acceso a las salas de reunión puedan ser satisfechas.
Thursday, November 19, 2020 - 7:00pm
Image: