The 2019 Fox Cities Book Festival begins on Monday, October 7, and runs through Sunday, October 13.
The Elisha D. Smith Public Library is honored to host: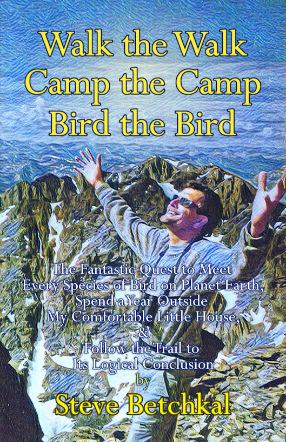 Saturday, October 12, at 3:00pm
Steve Betchkal (Non-Fiction, Nature)
A Walk West: Rediscovering America's National Parks a Step at a Time
America's National Parks are a national treasure, cherished for their singular natural beauty and rich history. Author Steve Betchkal – an ornithologist, environmentalist, and Emmy and Murrow Award-winning veteran journalist — has worked at three national parks and camped and backpacked 67 others. Many of these alluring and beloved places are included in his newest book, Walk the Walk, Camp the Camp, Bird the Bird. Join him as he journeys – in personal stories and images – through some of his (and your) favorites.
This information may change. Follow the festival on Facebook. Or check the Fox Cities Book Festival for news.
All programs at the Elisha D. Smith Public Library are free and for everyone. Those with special needs are encouraged to call the library office at 920.967.3662 within 24 hours of an event to assure that specific needs with regards to parking, building and meeting room accessibility are met.
Todos los programas de la Biblioteca Elisha D. Smith son gratuitos y para todos. Aquellos con necesidades especiales pueden llamar a la oficina de la biblioteca 920.967.3662 con 24 horas de anticipación a un evento para asegurar que las necesidades específicas de parqueo, acceso al edificio o acceso a las salas de reunión puedan ser satisfechas. The library's main program room is equipped with a hearing loop, which will transmit to headphone receivers that are available upon request or to your own hearing device with a t-coil.
Saturday, October 12, 2019 - 3:00pm
Image: