The 2019 Fox Cities Book Festival begins on Monday, October 7, and runs through Sunday, October 13.
The Elisha D. Smith Public Library is honored to host:
Friday, October 11, at 10:00am read the book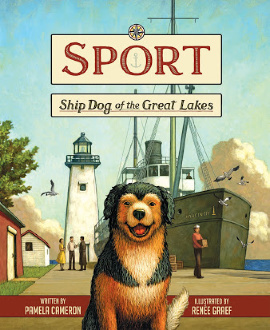 Pamela Cameron (family friendly, kids) History not Forgotten- Sport- Ship Dog of the Great Lakes - Details and stories about Sport will be used to convey why Sport was known all around Lake Michigan. Geographical and nautical language will be used and explored to support the captain of the Hyacinth, Captain Maynard's, statement, "Sport was just a dog, but he was always a good dog and a good shipmate, a friend to everybody and everybody's friend." Exploration of the reasons for lighthouses, technological changes and Lake Michigan navigation will be included in the program. Suitable for all ages.
Other authors presenting at the library:
Friday, October 11, at 1:00pm read the book
Joseph Kapler (Non-Fiction, Biography, Art)
Wisconsin in Watercolor: the Life and Legend of Folk Artist Paul Seifert
Friday, October 11, at 3:00pm read the book
Lee Reiherzer (Non-Fiction, History)
A History of Beer and Brewing in Neenah and Menasha
Friday, October 11, at 4:30pm Avi – (Newbery Award Winner, Family Friendly, Kids) List of books
Book Signing with Avi  
Friday, October 11 at 6:30pm read the book
Kelly Harms Fiction Ladies' Night Out with Kelly Harms  Author of The Overdue Life of Amy Byler.
Saturday, October 12, at 9:00am read the book
Neil Hansen (Non-Fiction, History)
Flight: An Air America Pilot's Story of Adventure, Descent and Redemption   
Saturday, October 12, at 11:00am read the book
Kristine Hansen (Non-Fiction, Food)
Wisconsin's Cheesy History .
Saturday, October 12, at 1:00 pm read the book
Jerry Apps (Non-Fiction, Nature)
The Civilian Conservation Corps in Wisconsin
Saturday, October 12, at 3:00pm read the book
Steve Betchkal (Non-Fiction, Nature)
A Walk West: Rediscovering America's National Parks a Step at a Time
This information may change. Follow the festival on Facebook. Or check the Fox Cities Book Festival for news.
All programs at the Elisha D. Smith Public Library are free and for everyone. Those with special needs are encouraged to call the library office at 920.967.3662 within 24 hours of an event to assure that specific needs with regards to parking, building and meeting room accessibility are met.
Todos los programas de la Biblioteca Elisha D. Smith son gratuitos y para todos. Aquellos con necesidades especiales pueden llamar a la oficina de la biblioteca 920.967.3662 con 24 horas de anticipación a un evento para asegurar que las necesidades específicas de parqueo, acceso al edificio o acceso a las salas de reunión puedan ser satisfechas. The library's main program room is equipped with a hearing loop, which will transmit to headphone receivers that are available upon request or to your own hearing device with a t-coil.
Friday, October 11, 2019 - 10:00am
Image: