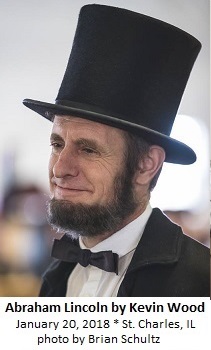 Abraham Lincoln portrayed by Kevin Wood will be here to present A New Birth of Freedom, a historical narrative centering on  twelve turbulent years in U.S. history from 1854 to 1865 when the issue of slavery, which had been divisive from the very beginning of our country, came to a head and nearly broke our country apart. 

This story begins with the Declaration of Independence, continues with the events that led Mr. Lincoln into politics in the mid-1850s and the ever-escalating increase in tension throughout the country, includes Mr. Lincoln's election as President, and culminates with the Civil War. 

Hear hear directly from some of Mr. Lincoln's best-known speeches and writings.  Be inspired to hope as he did for a "new birth of freedom" for our country.
Location: Company E Room - lower level
Duration: 1 hour.
All library events are free and open to everyone.  Those with special needs are encouraged to call the Reference Desk  at 967-3690, within 24 hours of the event, to assure that specific needs with regards to parking, building and meeting room accessibility are met.
Todos los programas de la Biblioteca Elisha D. Smith son gratuitos y para todos. Aquellos con necesidades especiales pueden llamar a la oficina de la biblioteca 920.967.3662 con 24 horas de anticipación a un evento para asegurar que las necesidades específicas  de parqueo, acceso al edificio o acceso a las salas de reunión puedan ser satisfechas.
Thursday, April 4, 2019 - 2:00pm
Image: