Display cases and areas promote educational, cultural, intellectual, or charitable activities consistent with the library's collection and services, promoting the use of the library. 
 
Display space may be granted to groups or individuals outside the library on an invitational basis, in which case the library neither endorses nor advocates for any viewpoints or opinions expressed. The library reserves the right to arrange exhibits and to make the final decision regarding content and physical presentation of all exhibits and displays. The library shall not consider for display any material deemed harmful to minors or which creates an intimidating environment.
 
 Any individual or group placing items on display are required to sign a waiver releasing the library from liability for loss or damage to the items.  Exhibits and displays shall not involve the sale, advertisement, solicitation, or promotion of commercial products.

This provision does not exclude sponsored exhibits, approved art exhibits, exhibits primarily informational in content, or exhibits containing advertising involving a variety of beneficiaries. The library director shall determine whether exhibits qualify under this policy.
The library director is authorized to make exceptions for sale of art display items where a portion of the proceeds is donated to the library or for sale of items displayed by program performers.
 

The library has three display areas.

An art wall (8 feet tall by 19 feet long) in the library's Miron Fireside Room, with an adjacent wall facing into the library, to promote the display (8 feet tall by 3.5 feet wide).  These have a gallery-quality surface and allow nails.
A glass case (3.5 feet tall x 4.4 feet wide) in the library's lobby allowing views from all sides. 
A lighted mahogany case (4.3 feet tall by 4.6 feet wide, 21.5 feet deep) across from the Circulation Desk.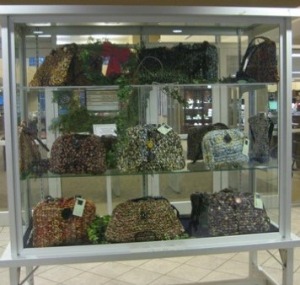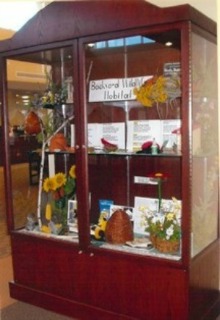 If you are interested in displaying your artwork, merchandise, collectibles, or project, send us an email message or call 920.967.3690. 
You will be asked to complete a Display Agreement.