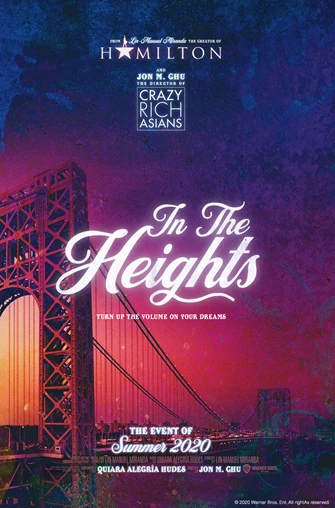 Today we will be viewing In the Heights (©Warner Bros, Rated PG-13, 142 minutes, Musical).  
Usnavi is a bodega owner who longs to go back to his native Dominican Republic. In the meantime, he spends his time in a small neighborhood in Washington Heights pining after Vanessa, a beautiful lady working at the beauty salon and looking after Abuela Claudia, the elderly Cuban lady living next door who raised him, among many others. One day, Usnavi's childhood friend Nina comes back from college with a secret, and Abuela Claudia wins the lottery.
Shown with subtitles.
Location: Company E Room

All programs at the Elisha D. Smith Public Library are free and for everyone.  Those with special needs are encouraged to call the library office at 920.967.3662 within 24 hours of an event to assure that specific needs with regards to parking, building and meeting room accessibility are met.  

Todos los programas de la Biblioteca Elisha D. Smith son gratuitos y para todos. Aquellos con necesidades especiales pueden llamar a la oficina de la biblioteca 920.967.3662 con 24 horas de anticipación a un evento para asegurar que las necesidades específicas  de parqueo, acceso al edificio o acceso a las salas de reunión puedan ser satisfechas.

The library's main program room is equipped with a hearing loop, which will transmit to headphone receivers that are available upon request or to your own hearing device with a t-coil.
Monday, May 9, 2022 -

6:00pm

to

8:30pm
Image: