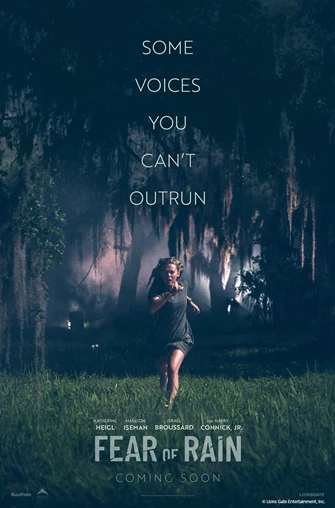 Today we will be viewing Fear of Rain (©Lions Gate Films, Rated PG-13, 92 minutes, Suspense-Drama).  
As a person living with schizophrenia, one of Rain Burroughs' everyday struggles is identifying which of the disturbing images she sees, disembodied voices she hears, and traumatic feelings she experiences are real and which are not. One day, however, she notices shadows and distressed cries from their neighbor's attic. She tells this to her parents, but they dismiss it as a fragment of her imagination. Unrelenting, she enlists the help of Caleb to uncover the truth.
Shown with subtitles.
Location: Company E Room

All programs at the Elisha D. Smith Public Library are free and for everyone.  Those with special needs are encouraged to call the library office at 920.967.3662 within 24 hours of an event to assure that specific needs with regards to parking, building and meeting room accessibility are met.  

Todos los programas de la Biblioteca Elisha D. Smith son gratuitos y para todos. Aquellos con necesidades especiales pueden llamar a la oficina de la biblioteca 920.967.3662 con 24 horas de anticipación a un evento para asegurar que las necesidades específicas  de parqueo, acceso al edificio o acceso a las salas de reunión puedan ser satisfechas.

The library's main program room is equipped with a hearing loop, which will transmit to headphone receivers that are available upon request or to your own hearing device with a t-coil.
Monday, May 2, 2022 -

6:00pm

to

8:30pm
Image: