The 2018 Fox Cities Book Festival begins on Monday, October 8, and runs through Sunday, October 14.
The Elisha D. Smith Public Library is honored to host: 
Saturday, October 13, at 11:00am   read the book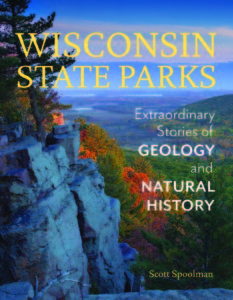 Scott Spoolman (nonfiction, history, nature)
Wisconsin state parks: stories of geology and natural history - Scott Spoolman introduces you to Wisconsin's fascinating geology and natural history by taking you through the gateways to the ancient past that can be found in Wisconsin's extraordinary State Parks and State Forests. This presentation includes an overview of the state's ancient history from the time when the continents were forming to the earliest days of human habitation of the area that would become Wisconsin. There follows a quick tour of five regions of the state with a look at the deep history of each region. Finally, the author takes us on a hike through one of the parks to show how his book can be used to understand the geology and natural history of the parks and their surrounding areas. The talk includes a look at the author's trail guides, which give hikers a first-hand account of what the author learned on his trips to the park. The presentation includes displays of several of the author's own photographs, which appear throughout this collection of 28 state park and state forest stories.
Others appearing at the Menasha library are:
Saturday, October 13, at 1:00pm   read the book
Lynne Diebel (nonfiction, history, nature, travel)
Crossing the driftless: some upstream paddling required

Saturday, October 13, at 3:00pm   read the book     listen to the audiobook     read the large print
Linda Castillo (headliner, mystery, on the craft of writing)
The fundamentals and essentials of writing the suspense novel

This information may change.
Follow the festival on Facebook.
Or check  Fox Cities Book Festival for news.
All programs at the Elisha D. Smith Public Library are free and for everyone.  Those with special needs are encouraged to call the library office at 920.967.3662 within 24 hours of an event to assure that specific needs with regards to parking, building and meeting room accessibility are met.  

Todos los programas de la Biblioteca Elisha D. Smith son gratuitos y para todos. Aquellos con necesidades especiales pueden llamar a la oficina de la biblioteca 920.967.3662 con 24 horas de anticipación a un evento para asegurar que las necesidades específicas  de parqueo, acceso al edificio o acceso a las salas de reunión puedan ser satisfechas.

The library's main program room is equipped with a hearing loop, which will transmit to headphone receivers that are available upon request or to your own hearing device with a t-coil.
Saturday, October 13, 2018 - 11:00am
Image: