The 2018 Fox Cities Book Festival begins on Monday, October 8, and runs through Sunday, October 14.
The Elisha D. Smith Public Library is honored to host: 
Friday, October 12, at 10:00am   read the book
Jay Matz (family-friendly, kids, illustrations, picture books, storytelling)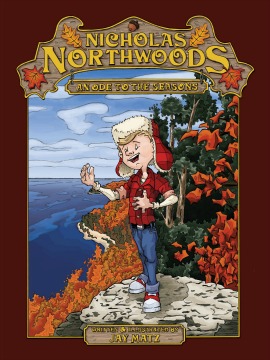 Nicholas Northwoods: how to create your own books! - Author/Illustrator Jay Matz will do a spirited reading of his own book, Nicholas Northwoods: An Ode to the Seasons, then take kids through the steps to write and illustrate their own books. This presentation is tailored to be age and skill level appropriate. First, Jay will cover storytelling- talking about organizing your thoughts, writing drafts and the importance of listening to advice from adults and testing your book out on an audience. He will emphasize writing with an active voice and making sure every word counts! Then, he walks children through his process of creating storyboards, pencil drawings and finally digital coloring. The focus here will be on dynamic visuals that enhance the text and fill out details of the story. Finally, Jay shows how to put it all together in a book you can share with others. The presentation ends with a drawing project for each child to complete themselves.
​Others appearing at the Menasha library are:

Friday, October 12, at 2:00pm   read the book
Joseph Rein (fiction, short stories, Wisconsin)
Roads without houses: writing Wisconsin-based fiction

Saturday, October 13, at 9:00am
B.J. Hollars (nonfiction, history, reading)
The road south: rediscovery the freedom riders on the road south

Saturday, October 13, at 11:00am   read the book
Scott Spoolman (nonfiction, history, nature)
Wisconsin state parks: stories of geology and natural history

Saturday, October 13, at 1:00pm   read the book
Lynne Diebel (nonfiction, history, nature, travel)
Crossing the driftless: some upstream paddling required

Saturday, October 13, at 3:00pm   read the book     listen to the audiobook     read the large print
Linda Castillo (headliner, mystery, on the craft of writing)
The fundamentals and essentials of writing the suspense novel

This information may change.
Follow the festival on Facebook.
Or check  Fox Cities Book Festival for news.
All programs at the Elisha D. Smith Public Library are free and for everyone.  Those with special needs are encouraged to call the library office at 920.967.3662 within 24 hours of an event to assure that specific needs with regards to parking, building and meeting room accessibility are met.  

Todos los programas de la Biblioteca Elisha D. Smith son gratuitos y para todos. Aquellos con necesidades especiales pueden llamar a la oficina de la biblioteca 920.967.3662 con 24 horas de anticipación a un evento para asegurar que las necesidades específicas  de parqueo, acceso al edificio o acceso a las salas de reunión puedan ser satisfechas.

The library's main program room is equipped with a hearing loop, which will transmit to headphone receivers that are available upon request or to your own hearing device with a t-coil.
Friday, October 12, 2018 - 10:00am
Image: