Joel Witmeyer is the featured artist on the library's art wall in June. Coffee and refreshments will be served. The artist will be showcasing his summer theme photo creations some of them in metal print.  Summer is Mr. Witmeyer's favorite time, especially in Wisconsin since the season is so short. As a photographer, the artist finds his voice among automobiles, landscapes, nature, and the beach which allows him to explore God's beautiful creation.
Location: Miron fireside room.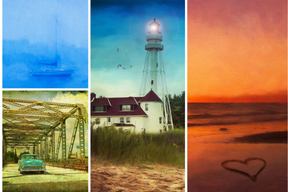 Duration: 1 hour and 30 minutes
All programs at the Elisha D. Smith Public Library are free and for everyone. Those with special needs are encouraged to call the library office at 920.967.3662 within 24 hours of an event to assure that specific needs with regards to parking, building and meeting room accessibility are met. 
Todos los programas de la Biblioteca Elisha D. Smith son gratuitos y para todos. Aquellos con necesidades especiales pueden llamar a la oficina de la biblioteca 920.967.3662 con 24 horas de anticipación a un evento para asegurar que las necesidades específicas  de parqueo, acceso al edificio o acceso a las salas de reunión puedan ser satisfechas.
Saturday, June 23, 2018 - 10:00am
Image: