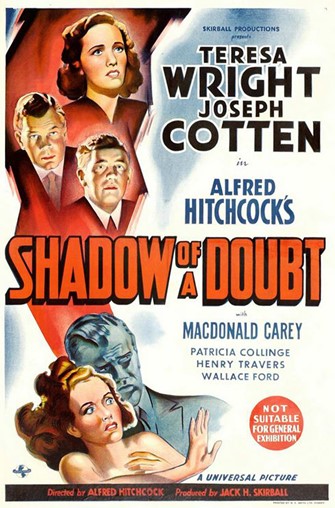 Join instructor Walt Ulbricht (MA, Film Studies) for a participatory viewing and discussion of two of Alfred Hitchcock's films. Although the famed director has a body of work that encompasses 50 years of American filmmaking, "Shadow of a Doubt" and "Psycho" were considered to be standout favorites of his. Both films are effective examples of his favored themes of evil and the dark side of human nature. This is no ordinary film lecture, attendees are encouraged to discuss, analyze and view these works within the excellent historical and technical context that Ulbricht will provide. 
"Shadow of a Doubt" will be featured on Tuesday, February 15th at 1pm.
"Psycho" will be featured on Tuesday, February 22nd at 1pm.
"Shadow of A Doubt" (1943)
Based on a script by acclaimed playwright Thornton Wilder, "Shadow of A Doubt" examines the dark side of human nature arriving in the sunny small town of Santa Rosa, California. Uncle Charlie, played by Joseph Cotton, confronts his namesake niece (Teresa Wright) in the figure of a handsome and charming murderer. Released during World War II, the film depicts evil also threatening the American home front.  It stands, according to film critics, as one of Hitchcock's most disturbing explorations of the duality of personalities. 
"Psycho" (1960)
Hitchcock's "Psycho" deeply shocked audiences in 1960 with his masterpiece of twisted horror. Yet the movie is considered uniquely brilliant in its technical artistry as it reveals the shared guilt and fatal obsession of its characters. The American Film Institute ranked it as the best suspense-horror film.  Janet Leigh plays a discontented secretary who steals $40,000 from her job and heads down a dark road where Anthony Perkins awaits her at the Bates Motel. Discover more about "Psycho" with its haunting audience legacy lasting for more than six decades.
Tuesday, February 15, 2022 - 1:00pm